Autumn (1) 2018
Welcome to Oak View Nursery
The first few weeks of term will be spent settling the children into the nursery environment.  The children will be encouraged to engage with their learning environment and all staff will support them to become familiar with the routine of the morning.
During this time, your child will interact with other children at school, in many different situations.  We will work on the specific skills of sharing, empathy, cooperation and taking turns.  All children and adults will be expected to show respect to each other and their learning environment and resources.
We will cover the seven areas of learning through our theme of 'Nursery Rhymes', detailed in the overview of the term.
We will be looking at some traditional nursery rhymes such as 'Old McDonald', 'Incy Wincy Spider' and 'Humpty Dumpty'.  Other not so traditional rhymes such as 'Five little men in a flying saucer' and 'One elephant went out to play' will also be covered.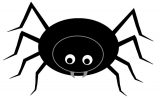 Your child will engage with our curriculum both inside and out, please provide a coat for your child every day.