Summer 2018
During the Summer Term our theme will be The Roman Empire. This provides the opportunity to study the Roman Empire, where they settled and how cities were built up.  We will be looking at the powerful leaders including Boudicca and how she rebelled against the Roman invasion in the UK.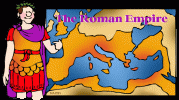 In Science we will begin the study of light and how it is necessary for all life to live. We will explore what light and shadow is. The children will understand the life cycle and key elements of plants.  They will look at a range of plants and classify them using different criteria.  They will gain an understanding of how best to look after plants and what they need in order to grow well.

Art will provide the opportunity to explore collage and printing.  We will link our Art to our theme by creating pieces of art work based around the idea of The Roman Empire. 
In Maths we will be looking a lot more at problem solving and providing the children with the correct skills to overcome the challenges and choose the correct calculations to answer questions.
We will be furthering our story writing skills by revisiting adventure writing, making sure the children start to create their own style by making use of the key skills of writing, perfectly placed punctuation and interesting vocabulary.  
Spring 2018
During the Spring Term our theme will be the United Kingdom.  This provides the opportunity to study our country and compare it to others in the UK.  Children will be given the opportunity to look at and understand OS maps, symbols and create their own maps. We will study specific areas in the United Kingdom and compare them to a non-European area.

Science – the children will understand the need for a balanced diet. They will look at the different food groups and will have a good idea of which foods belong in each.  They will gain an understanding of how to pick foods which help our bodies in different ways.  Children will answer questions based on their experience of healthy and unhealthy foods. They will also be looking at the human body and how it is protected.
Art will provide the opportunity to explore collage, sketching and painting.  We have been looking at Friedrich Hundertwasser and will link our artistic inspiration to our theme topic by looking at skylines in the UK and beyond. Design Technology will link to Science and provide the opportunity to explore healthy eating, designing a healthy snack bar and creating the packaging for it.

In Maths we will continue to develop our skills in number and place value, data, shape and measure. These skills will then be used to develop strategies for problem solving. The children will be learning to tell the time at school and their progress will be enhanced through home activities.
We will be exploring Fables to widen our understanding of different genres. The children will also learn about the features of non-chronological reports and create their own.
Useful reference web sites:  
http://www.bbc.co.uk/education/topics/z4d82hv/videos/1
http://www.bbc.co.uk/education/clips/zcw9wmn
Autumn 2017
During the autumn term our theme will be Prehistoric Britain. We will be looking at how homes, food, clothing and weapons changed through the Stone Age, Bronze Age and Iron Age.  We will be imagining what it would be like to live in the Stone Age and how our lives would be different.
Useful reference web sites:
http://www.bbc.co.uk/guides/zpny34j
http://www.bbc.co.uk/history/ancient/british_prehistory/
In science we are looking at rocks and soils and are very lucky to have a lovely collection of rocks to explore in our classrooms. Through investigations and scientific thinking, we will be busy finding out how rocks are formed, how they change and how we use the soils to produce food.

In Mathematics the children will use their understanding of place value and number facts to solve problems. They will be expected to recall and use multiplication and division facts for the 3, 4 and 8 multiplication tables, and to understand how to work out the answers to higher tables as preparation for later recalling them.
RE focuses on Christian and Muslim beliefs and practices and describing God.
Art – The children will be looking at their class artist. Using knowledge of the colour wheel, they will reproduce a part of the class artist's work in their own style.  Children will also explore art through our theme of Prehistoric Britain.
The children will learn Spanish this year. In the autumn term the children will be covering basic vocabulary.  They will learn the alphabet and explore days of the week, colours and counting through activities and songs.       
Useful web site:
http://www.bbc.co.uk/schools/primarylanguages/spanish/
In literacy we will be looking at instruction texts, writing recounts and traditional tales with alternative endings. The children will be working hard to improve their language skills, including vocabulary, punctuation and grammar.
Children will have the opportunity to have some swimming lessons. In PE, the children will be learning gymnastic activities – using floor and apparatus create and perform a sequence of contrasting actions. They will show extension when balancing and flow when transferring weight. Children will work on improving the quality of their movement.
In Year 3, the children will learn to play the recorder as a class.  The children will learn finger position, notes, rhythm, playing as a group, along with how to look after their recorder. The children will work towards playing tunes/songs.
Our Learning Environment