Summer Term 2021
Our theme this term is 'Our European Neighbours'. We will be exploring the countries within Europe, including where they are located on the map, their flags and what it is like to live in these countries. We will be developing our research skills as we work to learn more about the countries.
During the first half term we will be learning about sound. Through investigations and scientific thinking, we will look at how sound is produced, different sounds and factors that affect sounds.  During the second half term our focus will be electricity. We will build circuits and consider factors that may prevent them from working, we will compare a variety of circuits and the equipment needed to create them. We will investigate different types of insulators and conductors to determine the effectiveness of different materials.
Children will have the advantage to take part in Jigsaw, our new PSHE program which is focusing on 'Relationships' and 'Changing Me' this term
In art, both Year 4 classes will be studying Kandinsky and will work to create sculptures in the style of Kandinsky. We will explore their artwork and develop an opinion of it.
This term ICT should help to build our skills when creating written documents as we will be creating a multi-media word based text. Through this we will learn the common computer programmes that are used to create word based texts and features of these programmes. We will compare and contrast the programmes to consider when each would be most appropriate to use.
This term we will be learning Athletics and Rounders and other striking games within school. We ask that the children wear their PE kit to school on that particular day (Friday).
Our Spanish lessons will focus on healthy eating vocabulary and then using all our Spanish speaking, listening, reading and writing skills learnt throughout the year to explore a short story in Spanish.
Spring Term 2021
This term Year 4 are studying the Anglo Saxons and Vikings. We will learn who the Anglo Saxons were, their lifestyle and their impact on British history. We will then explore the Viking invasion and investigate the conflict that this caused. We will learn about important people during this period.
In Numeracy we will be developing the following areas: number, place value and rounding, addition and subtraction, multiplication and division, fractions and decimals. Also we will be focusing on geometry, including the properties of shapes and position, motion and direction. Throughout the term, the children will have opportunities to apply what they have learnt and develop their problem solving skills.
In Literacy we will be studying Shakespeare and play script writing, persuasive writing, story settings and narrative poetry. We will also work to increase our poetic vocabulary. The children will also have weekly grammar lessons where we will be studying subject-verb agreement.
In Science we will be considering the human digestive system, which will include the organs that make up the digestive system and the types of teeth we have, their role in digestion and how they can become damaged. We will be comparing this learning with the digestive systems of other animals with different diets. Finally, we will explore food chains and notice patterns. We will learn how to draw a food chain.
We will be looking at 3D art this term. We will create a brooch in the style of Anglo Saxon jewellery. The children will be focusing on the patterns and colours used and how to reflect this in their own work. We will work with materials to create the brooches.
The children will have a weekly computing lesson where they will be learning about algorithms and simulation, which contribute to programming and the development of games. We will be using a computer programme called Scratch to teach this.
In RE we will be learning about Sikhism. We will investigate the main beliefs and traditions of this religion. We will then learn about the importance and role of food in Sikhism and Christian worship.
In PSHE we will be looking at relationships and regulation of our moods. We will also be focusing about dreams and setting goals and reacting to them.
Autumn Term 2020
Welcome to the Autumn Term in Year 4.
This term our theme is Rivers and some of our learning in other subject areas will be linked to this.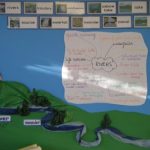 In Literacy we will be looking at a range of free verse poetry. The children will develop their knowledge of poetic techniques to write their own poems. They will focus on rivers and using figurative language to write a poem describing this. Our fiction will focus on narrative writing. We will study a key text with a theme and the children will develop their writing skills by creating their own stories. The children will study the features of non-fiction report writing. In addition to this we will have weekly grammar and reading comprehension lessons, as well as a weekly spelling test.
In Maths, we will be using the outdoor environment with problem solving and exploring new ideas. There will be a big focus on developing reasoning skills through collaborative activities and practical tasks. We will also be focusing on our fractions, where compare and order fractions. In addition, adding and subtracting fractions too.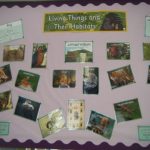 In Science, we will focus on living organisms and their habitats. We will be considering how plants and animals can be classified. We will be looking at habitats and the conditions needed for animals and plants to survive. In the second part of the autumn term, we will be studying the properties of solids, liquids and gasses. The children will investigate changing states of matter including, reversible and irreversible processes.
Our theme for this term is rivers and we will be learning about the course of a river and the main features that occur. We will consider how a river can be used by both animals and humans. We will explore the effects of river pollution and consider water management strategies. The children will have the opportunity to develop their geographical enquiry skills through research and investigations.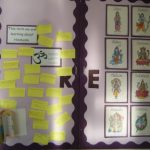 In RE the children will study the main teachings and beliefs of Hinduism. The children will also develop their understanding of Advent and Christmas in Christianity by exploring how they are celebrated around the world.
In Art, we will be studying our class artists. In Matisse, we will focus on his use of colour to help develop our skills in mixing and matching colours. In Kandinsky, we will make sculptures based on his work.
In our Computing lessons, we will be looking at how to research and use the internet safely and effectively. We will then develop our knowledge of spread sheets and data handling using Microsoft Excel.
We will be developing our understanding of British Values and Values Education. Each and every one of us will definitely have a Growth Mindset! We can do it.