January 2022
Please read the letter sent home on Wednesday 5th January 2022 – some key information:
The one way system around school will remain. We request parents to wear masks onsite, this is voluntary but if you wish to speak to a member of staff you MUST wear a mask.
The school office will remain closed – please email or phone. If it is essential that you visit in person, please only one family at a time in the entrance area.
Late arrival, again only one family in the entrance area if you have to sign your child in late.
School Times:
School will return to original timings with a soft start for this half term.  The school gate and classrooms will open at 8.35am and shut at 8.55am.  All lessons will now start at 9am prompt.
Year Group                             Start Time                               Finish time
Reception                                  8.35am – 8.55am                       3.10pm
Year 1 and Year 2                  8.35am – 8.55am                       3.10pm
Year 3, 4, 5 and 6                   8.35am – 8.55am                       3.15pm
Nursery times will return to normal
Morning session                        8.35am -8.45am                    11.45am
Afternoon session                   12.15pm                                      3.15pm
All Day                                            8.35am -8.45am                      3.15pm
December 2021
School is now finishing for the Christmas break on Friday 17th December 2021.
Due to a rapid rise in positive Covid cases we have taken the decision to re-introduce our previous systems and policies for the children and around the school. These systems will be in place until the end of term to ensure our school community stays as safe as possible.
From Wednesday 1st December the following systems will be in place:
Staggered start and finish times across the school to reduce high number of parents on site at the same time. 
Start Times / Collecting Times
8.30am – 2.30pm – Year 6
8.30am – 2.30pm – Year 1
8.40am – 2.40pm – Year 5
8.40am – 2.40pm – Year 4
8.50am – 2.50pm – Year 3
8.50am – 2.50pm – Year 2
8.50am – 2.50pm – Reception
Nursery
•           Nursery AM session Start 8.40 am – Finish 11.30am
•           Nursery PM session Start 12.00pm – Finish 2.50pm
If you have siblings throughout the school we have adopted a soft start to support our families, BUT if you do not have siblings please do not arrive until your time allocation. e.g. Reception Class 8.50am
The one way system will continue.  Please ensure ALL children and parents come in the main entrance and not enter via the exit gate.
Under government guidance masks do not need be worn outside but if you have an appointment or speak to school staff Mask must be worn at all times while on school site by adults. 
Children will remain in their bubbles at all times with break and lunch remaining separated from other children.
From Monday 6th December when children are outside they will wear a coloured bib again to indicate which bubble they are in. 
School office will be closed to parents. Please email or call if you have any queries. If you are collecting your child for an appointment, please call the office to inform them.

Reporting Illness
To ensure we keep everyone as safe as possible, please could I remind you that all children who are now absent with illness, must take a LFT. The result can then be reported to the school office at the same time as your child's absence. If their LFT is positive, please book a PCR test and inform the school and update us as soon as you have received their result.
We will keep you informed via email/text regarding any updates or further changes within school. Please speak me or your class teacher if you have any concerns
I hope that with the above precautions we will all be able to enjoy the Christmas festivities at school.
Thank you for your continued support in these difficult times.
September 2021
Now that the term has started, we thought it would be useful to share with you all the protocol when a child gets a positive PCR result as the systems are very different from before.
If the school is notified of a case, we will expect the child to return to school 10 days after the positive test result.  We will post work for them to do on Google Classroom, DB Primary or Tapestry, as long as they are not actually really poorly.  If they don't feel well enough, they would not be expected to do anything other than get better.
The school will not send out any notification to the class, and it is only when there is a significant cluster of cases – 5 or more – that we are expected to notify Public Health and risk assess whether the class should stay open.  The school also operates within strict expectations of confidentiality and will not share information about individuals with other families. 
If a member of your immediate family is designated Critically Extremely Vulnerable, it might be useful if you let us know.  We could then inform you if we learnt of a positive case in your child's class.  
Please remain very cautious and if your child feels a bit unwell with mild symptoms that could potentially be COVID, then it would be sensible to keep them off school and consider next steps.  Please also consider sensible social distancing on the playground and any other measures you think might help to stop the spread of infection.  
Please look at the flow chart below that will hopefully clarify when and when not to send your child to school.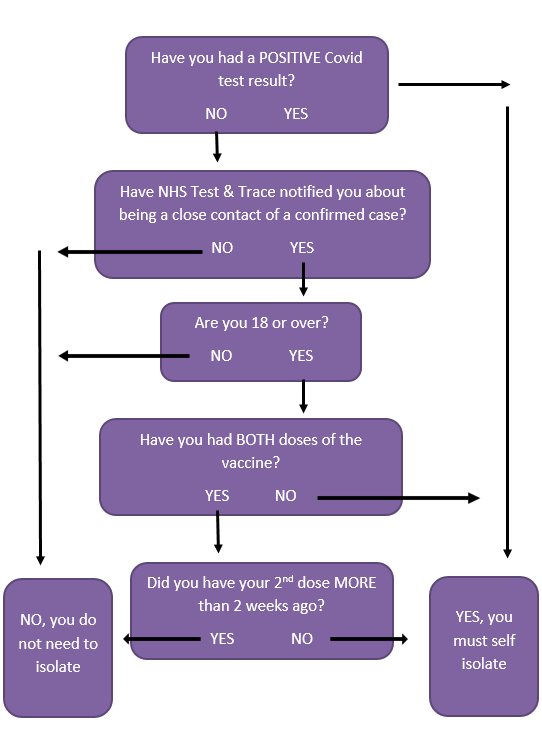 Department for Education Coronavirus helpline
There is a helpline to answer questions about COVID-19 related to education. Staff, parents and young people can contact the helpline as follows:
Phone: 0800 046 8687 
Email: DfE.coronavirushelpline@education.gov.uk
Opening hours: 8am to 6pm (Monday to Friday)
The recommended guidelines to help prevent the spread of respiratory viruses are:
washing your hands often – with soap and water, or use alcohol sanitiser if handwashing facilities are not available. This is particularly important after taking public transport
covering your cough or sneeze with a tissue, then throwing the tissue in a bin. See Catch it, Bin it, Kill it
people who feel unwell should stay at home and should not attend work or any education or childcare setting
pupils, students, staff and visitors should wash their hands:
before leaving home
on arrival at school
after using the toilet
after breaks and sporting activities
before food preparation
before eating any food, including snacks
before leaving school
use an alcohol-based hand sanitiser that contains at least 60% alcohol if soap and water are not available
avoid touching your eyes, nose, and mouth with unwashed hands
avoid close contact with people who are unwell
clean and disinfect frequently touched objects and surfaces          
If you are worried about your symptoms or those of a child or colleague, please call NHS 111. Do not go directly to your GP or other healthcare environment
See further information on the Public Health England Blog and the NHS UK website.