School is now closed for the summer holiday
Children in Year 1 – Year 6 return to school on Thursday 2nd September
Nursery and Reception children have a staggered transition from Monday 6th September 
We hope you have a great summer.  Stay safe and we look forward to seeing you again in September
We are pleased to advise that the heating and hot water installation has been progressing well and the EYFS and KS1 areas were completed during the half term break. The project now moves to the KS2 end of the school.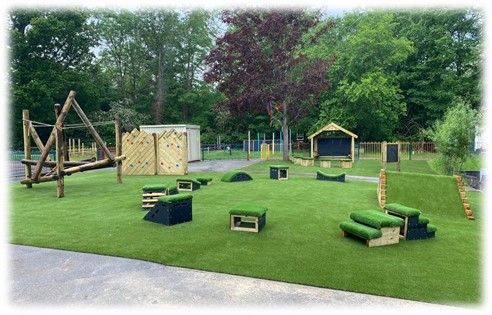 Those families dropping children off will have seen the re-development of the Early Years Foundation Stage outdoor area taking place.  The children have been enjoying using this exciting new area.
These are exciting times and building work that will continue to improve the school for the future and your child's learning experience.   If you have any questions please do not hesitate to ask Mr Richardson when you see him on the school gate.
The school systems and polices continue to remain the same as in the Autumn term, with the key points :
Start and Finish times will remain staggered across the school to reduce high number of parents on site at the same time. 
The one way system will continue.  Please ensure ALL children and parents come in the main entrance and not enter via the exit gate.
Masks MUST be worn at all times while on school site by adults.  New signs will be placed around the school to ensure everyone's safety.  Please adhere to this.
Children will remain in their bubbles at all times with break and lunch remaining separated from other children.
When children are outside they will wear a coloured bib again to indicate which bubble they are in.  Please can you ensure children return their bibs on the first day if they took them home at the end of the last term.
If there is a positive case in any bubble, the whole bubble will need to isolate for 10 days following the government guidelines.
It is essential if a child who is attending school has any covid symptoms or has been in contact with a family member who has had symptoms they self-isolate and take a test if necessary. 
We are not able to offer visits to the school at the current time so we have created a Virtual Tour. 
More information on admissions to the school can be found on our admissions page
When visiting our school please follow these rules to ensure our school community stays as safe as possible:
No parents / carers will be allowed inside the school building unless requested by the Head teacher.
Please contact the school office, if needed, by phone or email.
If you need to collect your child for an appointment, please call the office as you arrive at school so that we can arrange for the child to be ready to meet you outside the Reception door.
All communication will be sent via text, email, website or newsletter.
Parents evening will take place online, using a Zoom like approach.
Children are requested not to arrive before their allotted start time. Our soft start system should only be used by those families that have children attending different year groups. 
All school apparatus is out of bounds before and after the school day. 
Thank you for your ongoing support through these difficult times.
Please see the news page for the latest information.
Eco Classroom
You will have noticed that the area that previously housed our African Huts has work starting on it and we are pleased to advise that we have an Eco Classroom in development.  The school were fortunate in obtaining a Healthy Pupils Capital Bid in 2019 but due to the Covid-19 pandemic our build was delayed. 
Please look at our Eco Classroom page in the Our School section for regular updates of progress. 
Neil Richardson