Reminder: Occasional Day – Friday 3rd December – School Closed

Covid 19 Update
We have unfortunately seen a rapid rise in positive Covid cases and have therefore made the decision to re-introduce our previous systems and policies. These systems will be in place until the end of term to ensure our school community stays as safe as possible.  From Wednesday 1st December, please note the following staggered start and finish times across the school to reduce high number of parents on site at the same time:
Start Times / Collecting Times
8.30am – 2.30pm – Year 6
8.30am – 2.30pm – Year 1
8.40am – 2.40pm – Year 5
8.40am – 2.40pm – Year 4
8.50am – 2.50pm – Year 3
8.50am – 2.50pm – Year 2
8.50am – 2.50pm – Reception
Nursery AM session Start 8.40 am – Finish 11.30am
Nursery PM session Start 12.00pm – Finish 2.50pm
(Nursery times have been reduced due to Bubble Groups)
We have a soft start system to support our families who have children in different classes, BUT if you do not have siblings please do not arrive until your time allocation. e.g. Reception Class 8.50am
End of Term Events:
Friday 10th December – Christmas Jumper day for Save the Children 
Friday 10th – Thursday 16th December – All classes to visit Forest school 
Wednesday 15th December – Christmas Lunch 
Monday 13th – Friday 17th December – Reception and Nursery classes will be recording Christmas songs which will be available to parents via Tapestry
Friday 17th December – Class party day – non uniform day
Tuesday 21st December – End of term assemblies with Mr Richardson
Tuesday 21st December – School finishes at 1pm
Wednesday 5th January 2022 – Inset Day – School Closed to children
Thursday 6th January 2022 – Children return to School
Thanks for all your support.  The non uniform day raised over £340.00
Guidance from the Government and the Local Authority, is that we can return back to normal operations following the Covid pandemic.  Meaning, No bubbles, No staggered times, No bubble closures if a positive case, No masks to be worn by adults.
The school will continue to follow clear systems and have children operating in phases, rather than whole school activities.   Hygiene procedures within the school will remain high and children will continue to wash their hands regularly and use sanitiser when required.
The one way system around school will remain for the current time.  School will return to original timings (the school gate will open at 8.40am and classroom doors at 8.45am)
Year Group                                 Start Time                   Finish time
Reception                                      8.50am                         3.10pm
Year 1 and Year 2                      8.50am                         3.10pm
Year 3, 4, 5 and 6                       8.50am                         3.15pm
Nursery Sessions
Morning                                        8.45am – 11.45am
Afternoon session                  12.15pm – 3.15pm
All Day                                           8.45am – 3.15pm
Our new EY playground.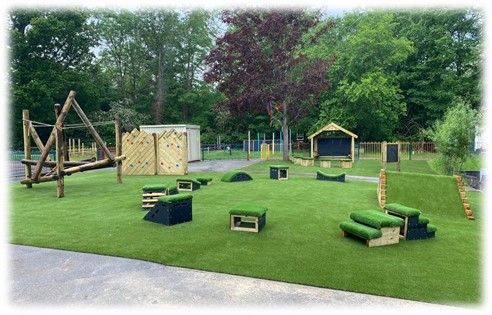 Those families dropping children off will have seen the re-development of the Early Years Foundation Stage outdoor area taking place.  The children have been enjoying using this exciting new area.
These are exciting times and building work that will continue to improve the school for the future and your child's learning experience.   If you have any questions please do not hesitate to ask Mr Richardson when you see him on the school gate.
More information on admissions to the school can be found on our admissions page