Autumn 2021
This term Bella will join some of the classes for their Monday PSHE lesson where we will talk about her 3 C's  which are to be Calm, Connected and Self Controlled and  how the children can help her succeed with these. 
In preparation for this she has started to visit Year 6 through to Year 2 classes during the day, gradually increasing the time spent in the class.   She is also meeting the children on the playground at break and lunchtimes. 

She is finding this all quite exhausting!
October 2020
During the Autumn Half Term Bella had a couple of days at the coast.
September 2020
We are pleased to tell you that Bella is going to return to school this month and the children will gradually start to see more of her around the school site.
Back at the beginning of the year we were working towards taking the DHK entrance exam. We did not pass the 'mock' entry test in January as Bella jumped up and barked during the test which was an immediate fail.  We put in additional training sessions with DHK trainers to work on 'calming' methods with Bella but sadly in March we took the decision to withdraw her from the DHK programme due to a medical concern.  
Bella has always had a 'funny' sitting position which we were monitoring with our vets. When fully grown Bella was X-Rayed and this showed that her right leg was not sitting snugly in the hip socket.  We were referred to a veterinary specialist and their diagnosis was that although surgery was not required now, it could be a possibility in the future.  DHK's requirement was that all dogs must be 100% fit and healthy and they were concerned that this was not the case with Bella and after lots of discussion it was agreed that it would be best to not proceed with them.
There have been no issues with Bella's health since then and we have continued to train regularly through 'lock-down' with zoom meetings before our group sessions re-started in August.  We are currently trying to source additional training to support her role in school.
Sadly, the Dogs Helping Kids charity has stopped operating.  They were a small self funding charity and were unable to sustain themselves through the pandemic lockdown. 
April 2020
Bella is also not coming to school at the moment. It is part of her routine to come to school each day and she is finding it very strange that she is being left at home.
We are still working hard on her training and as we can no longer attend dog training classes we now take part in an on-line training session on a Saturday morning. Here are a few pictures of her enjoying the sunshine.
January 2020
During the Christmas break Bella stayed with her breeders and enjoyed a fun filled week playing with her brother and uncle and spending time with her mother and grandparents.  They have seven Beagles in their home so she was very tired when she came back and is spending lots of time in her crate sleeping.  Here are a few pictures from her stay.
Bella is now 11 months old and as she gets older she is definitely getting calmer and is turning into a polite puppy.  We had a fire drill last week and Bella behaved superbly.  The noise did excite her but when we left the building she settled quietly on her mat until we were given the OK to return into the building.  I was very proud of her!
Team Bella head to Devon on 17 January 2020 for a Mock Entry Test.  We are hoping that all the training we have done will just leave us with a few areas to 'tweak' in preparation for taking the Entry Test later this term. 
October 2019
Bella attended her Advanced Puppy Training day at the DHK Headquarters in Devon on 18 October.   Tracey Berridge, Founder and Chief Executive of Dogs Helping Kids was pleased with the progress that Bella has made. She said that Bella is a very sweet and loving dog who is a pleasure to train – although she is now in full teenage mode and she can be quite naughty at times! We are now working towards the Entry Test which will take place in Spring 2020.
August 2019 – Part 2
Bella spent the Bank Holiday weekend up in the North East of England visiting the Peak District and North Yorkshire.
August 2019
At the start of the Summer break Bella was spayed. She recovered really well from her operation and when she was discharged by the Vet, Mrs O'Shaughnessy and her husband took her on visits to Devon, Cornwall and Wales.   As we were going to Devon we booked in for a training session with Gail, who is the DHK Director for Education. She said that Bella is doing very well and has a lovely temperament.  Bella worked very hard at this session which involved exercises on grass in the paddock and also on sand in the barn.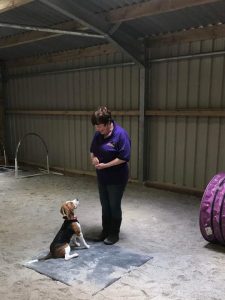 During the trips away Bella had lots of socialisation opportunities. She met lots of new people and loads of dogs – including a King Charles puppy called Nemo.  She also saw sheep out on the moors and some ponies.  She even got up close to some pigs – she was a bit scared of them to start with but was very interested in what they were doing. 
Bella has also been to stay with her Kennel Club breeders and spent a few happy days with her brother, mother and grandparents.  She was very tired when she came home and has been catching up on her sleep.    
June 2019
Bella is continuing to do well.  She is now 17 weeks old and is growing up so fast. We are doing lots of training with her and she is a very bright student who is always keen to learn. To keep her mentally stimulated we are also teaching her a few 'tricks' such as 'spin' and 'middle' and 'roll over'.  She has so far mastered 'middle' and as you can see she still needs lots of sleep!
The children, staff and families are doing a good job at 'ignoring her' when they see her at school  and a number of them have received Bella stickers and certificates in appreciation of how good they have been at doing this.
And finally, we are pleased to let you know that Bella now has a profile on the DHK website under 2019 Puppies.
May 2019
We are pleased to say that Bella has attended her first intensive Puppy Training day at the DHK Headquarters in Devon.   She worked really hard on the training day and Tracey Berridge, Founder and Chief Executive of Dogs Helping Kids was really pleased with the progress that Bella has already made.
While in Devon she met lots of new people and their dogs and also went on the beach for the first time.

   Bella has her new DHK coat on for the first time in school.
April 2019
Bella is settling in well and is enjoying learning lots of new things. She visited school during the Easter break when school was very quiet and she will start coming into school regularly from Monday 29 April.  She loves her new bed and toys.
Bella has arrived in Hertfordshire.  She is now 8 weeks old and she is getting used to living with Mrs O'Shaughnessy and her family.
She is a lovely friendly puppy. She is very calm and placid and still sleeps quite a lot during the day.  But when she is awake she loves to play with her toys and make new friends.
March 2019
Please meet Bella, our new member of staff.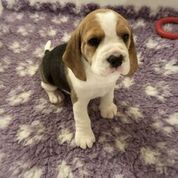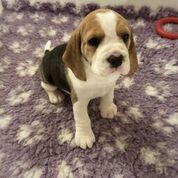 Bella will become a regular attender at the school from the beginning of the Summer Term as she starts her training to become our Educational Assistance dog as part of our on-going mental health and well-being provision.
To ensure that our school dog is safe to work in an educational environment we have registered with the charity Dogs Helping Kids (DHK). DHK are one of the only organisations in the country training and assessing dogs purely to work in an educational environment as both educational and therapeutic aids.  We shared their belief that a dog should only be working with a child, in an educational environment, if it has been trained, assessed and certified to do so.   You can find out more about school dogs from the Dogs Helping Kids website at: http://www.dogshelpingkids.co.uk
Bella will be owned by Mrs O'Shaughnessy and when she is at school she will be based in the school admin office which is secure and separate from the classrooms.  For her first year in school, she will be behind the scenes and will have little contact with the children as she gets used to her new surroundings.  If she does venture out of the office she will be kept on a short lead and will always be with an adult.
Children and staff have been asked to 'ignore' her if they see her around school so she can become accustomed to the school environment and learn to 'love' her other home.
During her first year Bella will attend weekly puppy training sessions and training and assessment workshops at the DHK headquarters as we work towards completing the Puppy Training Programme. This is then followed by a two year training programme and then annual assessments.
Only once Bella has completed her puppy training will she start to 'work' with children from Year 1 to Year 6.  Under no circumstances would any child be forced to  meet with Bella and we will do everything we can to reassure children who are fearful of dogs.
We hope that you join us in welcoming Bella to our school community.  Please check in regularly to see updates of her development and progress.
If you have any questions or queries please take a look at our FAQs sheet. Hopefully this will provide the answer to any questions you have but if not then please email us at: mailto:admin@oakview.herts.sch.uk(please put School Dog on the subject line).
Here are some other pictures of Bella's journey so far.