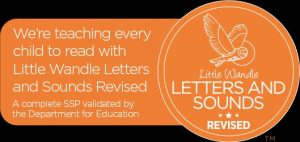 Phonics is the foundation on which we build our Literacy curriculum and Children from the outset of their learning are introduced to a rich vocabulary world which will stimulate their curiosity and support them to express their thoughts and feelings.
Phase 1 provides a wealth of opportunities for the children to explore sounds and develop their speaking and listening skills which will support them in making accelerated progress as they continue their learning journey. The children have opportunities to explore sounds both within and outside the classroom. Our outdoor area in EYFS was designed to provide a stimulating rich environment where the children can independently immerse themselves exploring the sounds in the world around them. Supported by their teachers they can develop their auditory memory, develop vocabulary and language comprehension.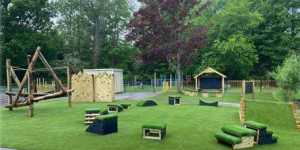 In our Nursery the children focus on listening for various sounds and rhyme.  They then begin to learn letter sounds and orally blend.

In our two Reception classes we have daily phonics sessions where the children continue to learn the Phase 2 letter sounds.  When the children are secure in recognising these sounds and are able to blend for reading, we begin to learn the additional sounds and letter clusters in Phase 3 and 4.

During the school day the children apply their phonics skills through various games and approaches.
We often practise sound recognition at snack time. Children develop their reading skills by blending the sounds in captions and matching to pictures. We practise our writing skills by segmenting the sounds in words using pictures and phoneme frames.
In the afternoons we concentrate on reading skills, children work in small groups with an adult to read an appropriate text together.  Children learn to track from left to right and employ strategies to decode the text.  We also pay attention to expression and comprehension.  Children read individually with an adult; this book will be taken home to read and changed once a week.
Teachers are continually monitoring the children's progress during lessons to ensure that future planning meets their needs. More formal assessments take place half termly which provide further insight into the understanding of the children. Interventions are put in place to support children who need to make accelerated progress.
We provide a wide range of phonic based books which are synonymous with the children's phonic levels to ensure that children have the opportunity to embed their phonic knowledge. Children continue to read regularly in class independently and to adults. Books are taken home on a daily basis so parents are partners in their children's reading journey. Additional trained adults come into school to hear the children read which provides further opportunities to enrich the children's reading experiences and consolidate their phonic knowledge. Throughout EYFS and Key Stage 1 we provide a rich reading environment to support children in developing a reading habit of reading widely.
In Key stage 1 the children build on their EYFS experiences and deepen their understanding of phonics. Phase 5 (National Curriculum Year 1) is taught during the children's first year in Key stage 1. The earlier Phonics phases are revisited at the start of each lesson to ensure past learning becomes knowledge which the children can quickly utilise. Daily phonics lessons continue throughout Key Stage 1. During year 2 the children are taught as a whole class and in small groups to provide bespoke lessons at the phase required by the children. Provision is made for those children who benefit from outdoor learning through the use of the EYFS outdoor classroom and other areas of our ground are used to deliver group phonic sessions.