Welcome to Reception. Our teaching staff are Mrs Archer (Lowry) and Mrs Melia (Van Gogh). Our teaching assistants are Mrs Jones and Miss Haggar-Smyth.
Autumn Term 2022 (2)
Our class topic for this half term is – 'Traditional Tales'. We will be looking at a variety of different tales and we will be learning about –
· The characters
· The setting
· Adding adventure time – where we explore/change the story
· Retelling the stories through our play
A new addition to our timetable is 'Drawing Club'. The children are thoroughly enjoying this special club. It is amazing to see their imagination and writing skills being developed in this fun way.
Reading –
We have begun our reading practise sessions and the children will be bringing home the reading practise book along with a sharing book.
Maths –
In Maths we will be consolidating our subitising skills, comparing numbers, looking at the composition of numbers and honing our counting skills. We will also be exploring pattern, classification, spatial thinking and measure.
Phonics –
This continues to be a very important part of every day in school. We have nearly completed learning the Phase 2 sounds and the children have begun to blend these sounds to read and segment them to write. Children are assessed every six weeks, and this informs us of any additional support needed.
Home learning–
This is linked to our phonics learning and can be found on Tapestry.
Outdoor learning –
This continues to be a very important part of our learning and development. Please ensure your child has their coat and wellingtons with them each day.
Other things we will be learning about this half term are –
What makes us special?
What makes us feel proud?
Remembrance Day, Bonfire Night Safety, why we celebrate Christmas and work on our Christmas production.
Thank you for all your help and support. It is great to see the children settled, enjoying their learning and trying so hard.
If you have any questions, worries or concerns, however big or small, please feel free to come in and see us.
Mrs Archer and Mrs Melia
Autumn Term 2022 (1)
For the first half of the autumn term our focus will be 'Marvellous Me'.  This is a great opportunity for us to get to know your child in all of the 7 areas of learning.  Throughout the term we will be discussing families, similarities and differences, emotions, our senses, healthy bodies and the changes in our environment (autumn).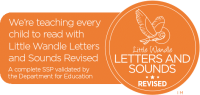 We will spend time exploring a range of books to develop communication and language skills. The children will develop early reading skills such as recognising the layout of books, predicting events and patterns of language. The children will engage in Little Wandle phonics sessions where they will begin to learn the phonemes (sounds) and graphemes (formation of letters).  We will practise blending these sounds in order to read.
Throughout this term the children will become familiar with the classroom equipment and routines, providing them with security. The children will explore our large outside area with activities such as gardening, forest school and "Welly Walks". 
In maths, children will learn to count, recognise and order numbers to 10. We will encourage children to match numbers to quantities and to name one more and one less. The children will learn to subitise (recognise a quantity without counting them).  We will start to recognise and describe 2D shapes and create various patterns using objects.  The children will start to compare using measures (length, height, weight and capacity).
In music, children will listen to a range of styles of music. The children will start to recognise "pulse" (the beat) along with copying rhythms and creating their own. Children will get the opportunity to use a range of percussion instruments. As a class we will learn how to perform, starting with nursery rhymes. We will be using Charanga Music.

In PHSE we will be exploring the theme of "Being Me in My World" through our school scheme "Jigsaw". The children will talk and explore the ideas: Help others to feel welcome; Try to make our school community a better place; Think about everyone's right to Learn; Care about other peoples' feelings; Work well with others and Choose to follow the learning charter.