Autumn Term (1) 2020
To start the first part of the autumn term we will be looking at "Marvellous Me".  This is a great opportunity for us to get to know your child in all of the 7 areas of learning.  As part of this topic children will be doing various activities such as painting self-portraits, discussing their favourite things with their peers and drawing pictures of them, talking about their family and special times and events.
In the first part of the Autumn Term we will spend time exploring a range of books. This will help develop communication and language skills. The children will develop early reading skills such as recognising the layout of books, predicting events and patterns of language.
Throughout this term the children will become familiar with the classroom equipment and routines, providing them with security. The children will explore our large outside area with activities such as gardening, forest school and "Welly Walks". In the wake of the lockdown due to Covid-19, and the ongoing situation, we will explore stories such as "The Rabbit Listened" that focus on feelings and emotions. By talking about these feelings,' children will develop their confidence to speak in larger groups.
In maths, the children will learn to count, recognise and order numbers to 10 and beyond. Children will be encouraged to match numbers and quantities and begin to name one more and less. The children will also be supported to recognise and describe 2D shapes.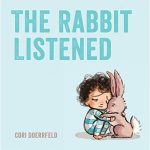 "With its spare, poignant text and irresistibly sweet illustrations, The Rabbit Listened is a tender meditation on loss. When something terrible happens, Taylor doesn't know where to turn. All the animals are sure they have the answer. The chicken wants to talk it out, but Taylor doesn't feel like chatting. The bear thinks Taylor should get angry, but that's not quite right either. One by one, the animals try to tell Taylor how to process this loss, and one by one they fail. Then the rabbit arrives. All the rabbit does is listen, which is just what Taylor needs. Whether read in the wake of tragedy or as a primer for comforting others, this is a deeply moving and unforgettable story sure to soothe heartache of all sizes."