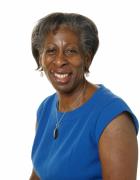 My name is Yvonne Davis and as Headteacher of Oak View School I would like to welcome you to our school community.
At Oak View we recognise that all children are unique and we strive to give the very best support in order that they can go on to reach their aspirations, achieve their full potential and become great members of society.
Our school motto is:-
"To empower skilful, independent learners for the future"
Your child will benefit from an exciting curriculum that encourages children to participate fully in their own learning.
Children learn in different ways so we ensure learning is relevant, engaging and experiential and challenges their thinking skills.
We are an inclusive school.  We believe that all people are of equal value irrespective of their ability, ethnicity, culture, religion, gender or sexual identity and we recognise and respect their differences.  We work hard to support the children in developing personal values which contribute to the ethos of our school. Our ethos is about respect, a positive attitude towards learning, notably listening to each other in a calm and purposeful environment.
Choosing the right school for your child is one of the most important decisions you will ever have to make so I hope that the information which we have provided here helps you in that choice. I am always available to talk to any prospective or current parent; therefore if you have any questions about the school please do not hesitate to contact me.