School Contact Details
Our School Office is staffed by Mrs Newman, Mrs Nicholls, Mrs O'Shaughnessy and Mrs Scott.  Please see our School Office.
They will be happy to assist with any questions or queries you may have about school life at Oak View. 
Telephone No:  01707 344400
Email:  admin@oakview.herts.sch.uk
Admission Arrangements
Please see our Admissions page.
Ofsted
Results of the November 2017 Ofsted Questionnaire
Exam and Assessment Results
2017
2016
2015

2014
Performance Tables
Curriculum
Please see our Curriculum section.
See our Policies page for links to policies
Please see our Policies section
Pupil Premium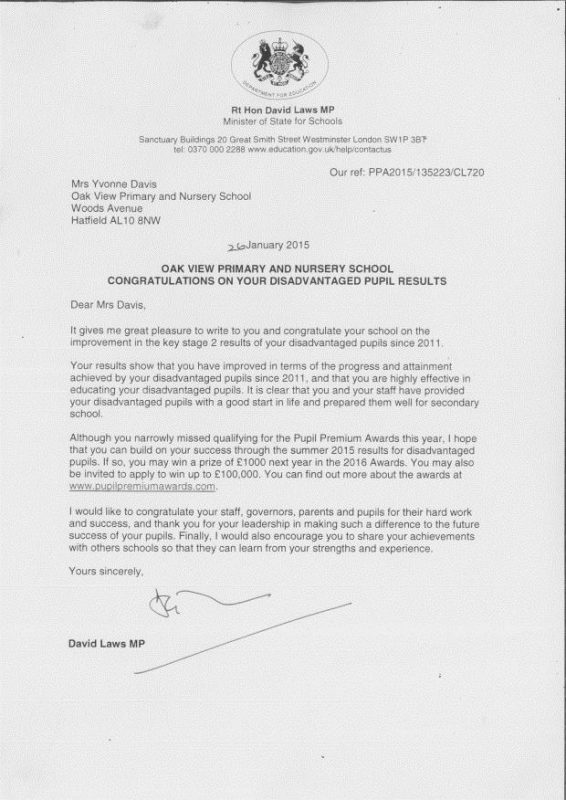 PE and Sport Premium
Special Educational Needs (SEN)
Governors' Information and Duties
Please see our Governors page.
Charging and Remissions Policy
Values and Ethos
Please see our Aims & Ethos page.
Staff Event Diary
Autumn Term 2017
| | |
| --- | --- |
| Mon 9th October - Fri 13th October | SLT – Lesson Study Week |
| Wed 11th October | Headteacher/SLT – out of school – SSAT CPD |
| Mon 16th October - Wed 18th October | SLT – Pupil Progress Meetings |
| Tue 17th October | EY TA Interviews |
| Wed 18th October, 9:00am - 12:00pm | KS2 Class Teacher Interviews |
| Wed 18th October, 12:30pm - 4:00pm | Nurture Class Teacher Interviews |
| Thu 19th October | KS2 Class Teacher Interviews |
| Thu 19th October | SLT – Stock Take Day |
| Mon 23rd October - Fri 27th October | Autumn Half Term – School Closed |
| Wed 1st November, 8:30am - 12:00pm | Headteacher attending Head's Briefing |
| Mon 6th November | Headteacher out of School |
| Tue 7th November, 8:00am - 12:00pm | Headteacher out of School |
| Wed 8th November, 8:30am - 12:00pm | Head out of school – Ofsted Update |
| Thu 9th November | Head and EYFS Leader out of school |
| Thu 9th November, 9:00am - 10:00am | Attendance Workshop |
| Wed 15th November | Class Teacher Interviews |
| Thu 16th November, 12:00am | EY – Teaching Assistant Interviews |
| Fri 17th November | Head/Deputy out of school – Performance Analysis |
| Mon 20th November, 3:30pm - 8:00pm | Parent Teacher Consultations |
| Tue 21st November, 3:30pm - 5:00pm | Parent Teacher Consultations |
| Wed 22nd November, 12:00am | Teaching Assistant Interviews |
| Thu 23rd November | Class Teacher Interviews |
| Fri 24th November | Occasional Day – School Closed |
| Mon 27th November, 6:00pm - 8:00pm | Governing Body Meeting |
Spring Term 2018
| | |
| --- | --- |
| Wed 3rd January | Inset Day – School Closed |
| Wed 10th January - Thu 11th January | SLT – Lesson Study |
| Wed 17th January - Thu 18th January | SLT – Lesson Study |
| Mon 5th March - Thu 8th March | SLT – Lesson Study Week |
| Thu 29th March | Inset Day – School Closed |
Summer Term 2018
| | |
| --- | --- |
| Mon 14th May - Fri 18th May | SATs Week |
| Mon 21st May - Fri 25th May | Optional SATs Week |
| Mon 28th May - Fri 1st June | Summer Half Term – School Closed |
| Fri 22nd June | Inset Day – School Closed |
| Mon 25th June | Inset Day – School Closed |
| Thu 26th July | Occasional Day – School Closed |
| Fri 27th July, 12:00am | Occasional Day – School Closed |